One of the great privileges of my little photography career so far has been to photograph Carolyn + Corey's wedding story. There's always a sweetness to wedding days but there's something extra joyful about getting to literally walk beside your friends as they get married :)
We're all a little sad that Carolyn is leaving behind her Moneymaker surname (yes, seriously), but Poggioli is pretty fun to say too :)
My fab second shooter Chaucee was over at Carolyn's brother's apartment to document Corey and his boys getting ready…
Carolyn + Corey got engaged on the Ben Franklin Bridge, and we took their engagement photos under it on Race Street Pier, so the bridge and pier's feature in their wedding photos should be no surprise!
Per Corey's request :)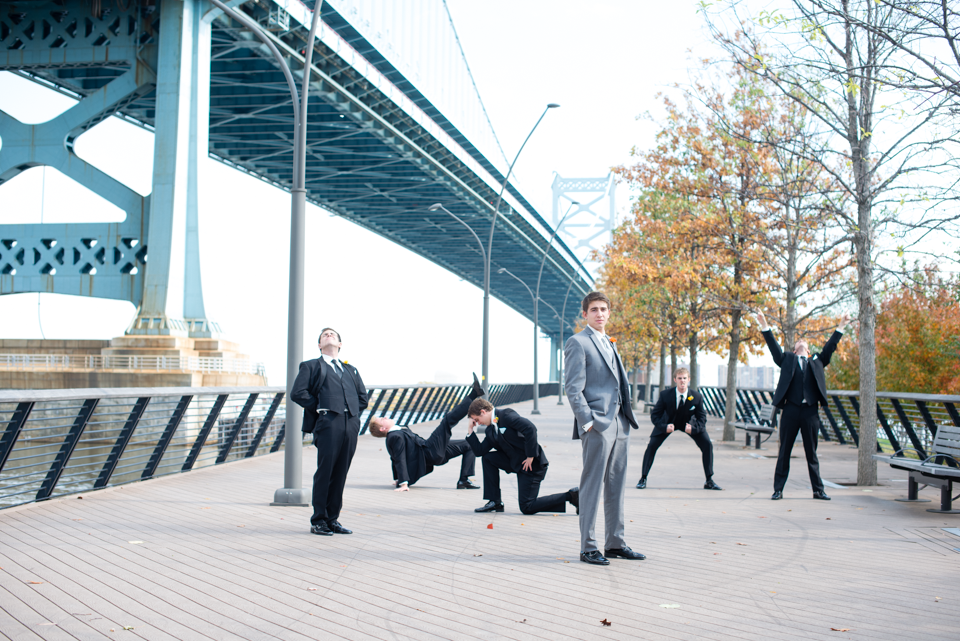 A little groomsmen protection for Corey and Carolyn's switcharoo at the pier!
I'll just go ahead and thank Chaucee publicly for this shot because it's so yummy :)
I think Corey might have been caught up in the moment, because he started saying his vows in John's direction :)
Penn Treaty Park looked like fall one one side, and spring on the other! We'll take it :)
My view on the right, Chaucee's on the left!
Swim. It. OUT.
I've seen Corey dance many times, but never quite like this. It suits him.
Can you guess who was playing at this moment? Hint: rhymes with Te$ha.
Hope you're loving New ZEALAND, Team Poggioli!!
—-
Vendors!
Invitations – Wedding Paper Divas \\ Dress – Allure Bridals \\ Shoes – Madewell \\ Bridesmaids' Dresses – Donna Morgan \\ Suits – Joseph A Banks \\ Florist – Sullivan Owen \\ Hair – Caitlin Matthews of American Mortals \\ Makeup – Sarah Wren of American Mortals \\ Venue + Catering – Skybox at 2424 Studios \\ DJ – Steve Vazquez with Silver Sound Entertainment \\ Bakery – Whipped Bakeshop \\ Cake Topper – LoveBirdsGoods \\ Second Shooter \\ Chaucee Stillman